Best Derma Products List in India– The derma sector has grown dramatically in India during the past ten years. Making the greatest choice out of the options on the market, therefore, becomes crucial. Why Stelon Biotech is the top dermatology pharmaceutical company in India will be explained to you all. The business has received both the WHO accreditation for a cutting-edge production facility and the ISO certification as the Best Derma Products List in India. We provide the best skincare selection on the Indian market because the derma medicine market is expanding incredibly quickly and is predicted to reach US$ 37 billion by the end of 2023.
The top derma company, Stelon Biotech, has the ability to treat all skin-related conditions, including rosacea, acne, pimples, dermatitis, microbial infections, and androgenic alopecia, among others. The company guaranteed thorough product inspection and packed the goods in many layers of airtight packing. Our product line also includes moisturizing lotions, antioxidant creams, acne-free face washes, and antibiotic and anti-infection tablets. The top dermatologists in India conducted clinical research, testing, and development before creating these products. Due to the fact that we produce the derma variety by comprehending the needs of the clients, we are the provider of the Best Derma Products List in India.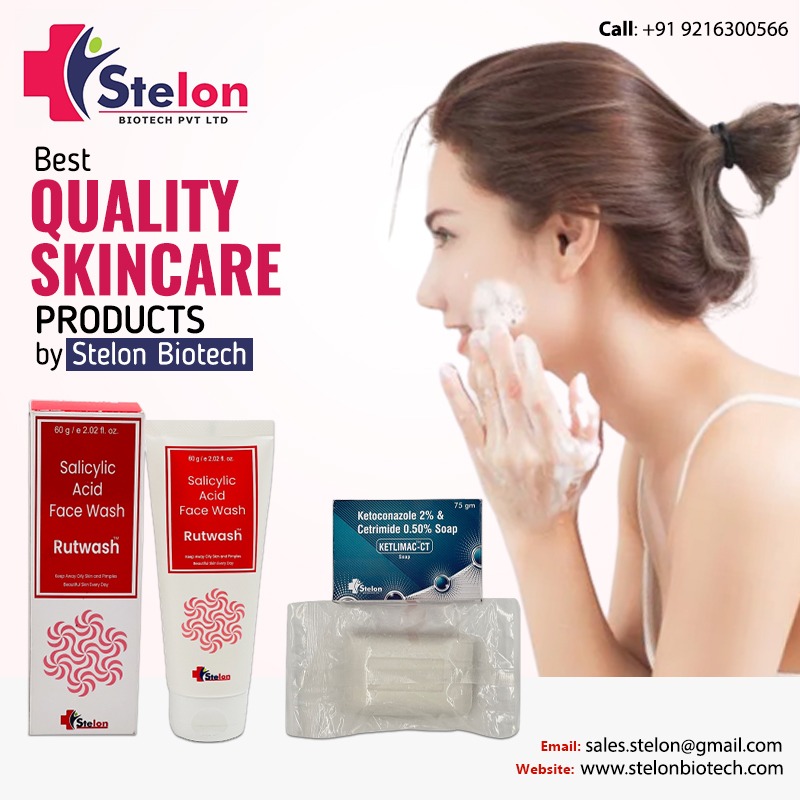 For more details regarding our product range, services, and offers we deliver call us at +91 9216300566 and email us at sales.stelon@gmail.com.
Growing Demand for Dealing with the Derma Products in India
The derma market is growing today, which means there are more business prospects in dermatology. The prospects for pharma experts interested in working in the derma market are now available online. The domestic dermatology market is expanding at a rate of 12 to 15 percent annually, proving that the boom is already underway. The derma market will consequently grow in the upcoming year as a result of this ratio.
Numerous problems of the skin, hair, nails and other body tissues are being caused by crowded areas, humid climate, environmental factors, lack of awareness, etc. A high-quality skincare line is therefore the crucial factor that may fuel growth and market expansion, and Stelon Biotech offers the Best Derma Products List in India. The following statistical data illustrates the expanding opportunities for operating with dermatology goods in India:
The dermatological sector is predicted to generate INR 1950 crores, while this industry's forecasted revenue is INR 3400 crores.
With the demand for dermatology goods rising and skin conditions becoming more prevalent, India's skincare sector is booming.
Men in India are now concerned with grooming. They are becoming more interested in skincare, and this sector is now worth 61,000 crores of Indian rupees.
This sector is expanding at a compound annual growth rate of above 9%.
High-Quality Derma Product List is Available at Stelon Biotech
A leading derma pharma firm in India, Stelon Biotech, has developed top-notch skin care products. The business offers a huge selection of high-quality skincare items that span the whole dermatological and cosmetology market. Our pipeline of high-quality therapeutic products includes products for anti-fungal, anti-biotic, anti-allergic, anti-acne, anti-bacterial, anti-infective, moisturizing, anti-dandruff, and many more therapeutic areas.
Our Derma Products are of the highest quality and may treat a variety of conditions, including eczema, hair loss, psoriasis, sunburn, oily skin, dry skin, scalp treatment, and vaginal problems. The best dermatologists in India endorse and trust these products because of their efficacy, affordability, and quality. Here is a list of the top Derma Products made by Stelon Biotech in India.
Itraconazole Tablet– This pill is used to treat fungal infections of the skin, including those of the fingers and toenails, as well as those of the mouth or vagina.
Hydroxyzine Hydrochloride Tablet– Hydroxyzine is used to treat anxiety and inflammatory and itchy skin diseases.
KetoconazoleTablet- Fungal infections are treated with ketoconazole. It functions by preventing fungal development and eliminating it.
Terbinafine Tablet– An antifungal drug is terbinafine. By dissolving the fungus' cell membrane, it kills it and prevents further growth, treating your skin infection.
Fusidic Acid Cream– Both bacterial skin infections and bacterial eye infections are treated with fusidic acid.
MUPIROCIN Ointment– An antibiotic is mutirocin. It stops the creation of vital proteins required for bacterial life, killing the germs that cause skin infections.
Salicylic acid face wash– Salicylic acid works as a peeling agent, assisting in the removal of the top layer of skin to help clear clogged hair follicles that are the source of acne.
Clotrimazole dusting powder– This dusting powder is recommended for the treatment of several skin-affecting fungal illnesses, including ringworm and yeast infections.
Ketoconazole and Zinc pyrithione Shampoo– To effectively cure dandruff, this shampoo includes the antifungal drugs zinc pyrithione and ketoconazole
Quality Guidelines Followed by the Stelon Biotech for Best Quality Derma Range
Stelon Biotech is known for its quality; the business has cutting-edge production capabilities that enable it to compile the top derma product line in India. We have a solid reputation for producing and supplying high-end skincare products that adhere to international and global quality requirements. With the help of our art of state manufacturing units, we regularly update our derma range to the market. We have the best team of QC/QA who devotes their 100% best efforts to and check every small particle of the compounds to make sure it is free from side effects. We take special care of:
pH balance
Moisture
Accurate Composition
Safety
Quality of Compound
Top-Quality Packaging Facilities are Available at Stelon Biotech
Drugs are often shielded from biological contamination and all harmful external variables at the conclusion of every medication formulation process, including moisture, light, oxygen, mechanical shock, temperature, etc. After completing the production of the highest-quality derma range, the company is concentrating on the packaging process to make sure that our product will arrive without damage. Because we manufacture the derma line, this market niche requires safe and attractive packaging to attract customers. Glass, plastics, and metals are the most typical packaging materials we utilize in the derma packaging industry. When performing the packaging process, we pay attention to the following factors:
We make sure that the packaging material does not have any adverse effect on the formulation through chemical reactions. 
Then we make sure that our packaging should complete all the degrees of protection from excipients, moisture, oxygen, light, temperature, etc.
In order to make our medicine afforadble we use cost-effective packaging material and we also reduce the wastage of packaging material.
We pack our derma range in different sizes and doses form so our customers can purchase it according to hie/her Convenience.
Derma Tablet
Brand Name
Composition
AFTERAX 25
HYDROXYZINE HYDROCHLORIDE 25MG TABLET
DOXYNOW LB
Doxycycline 100 mg + Lactic acid bacillus cap
Drescap-M
Desloratadine 5mg + Montelukast 10mg
EBAGRIP – M
Ebastine 10 mg & Montelukast 10 mg Tablets
EBAGRIP -10
Ebastine 10mg
Fluconazole 200mg
Fenawok – M
FEXOFENADINE 120 MG + MONTELUKAST 10 MG
Terbinafine 500mg
Levocetirizine 5mg + Montelukast 10mg Tablet
Levocetirizine 5 mg
KETLIMAC-200
Ketoconazole 200mg
Tretosil- 20
Isotretinoin- 20mg
ZOLEGRAB 200
Itraconazole 200 mg
 
 
General Tablet
Brand Name
Composition
Betahistine 16mg Tablets

Aceclofenac 100 mg + Paracetamol 325 mg + Chlorzoxazone 250mg Tablets

Aceclofenac 100 mg + Paracetamol 325 mg Tablets
BETERNAC SP

Aceclofenac 100 mg + Paracetamol 325 mg + Serretiopeptidase 15 mg Tablets

CEDOWAL-200
Cefpodoxime 200 mg (Each film coated tablets)
CEDOWAL-CV
Cefpodoxime 200 mg + Potassium Clavulanate 125 mg
CHYMOGRIP

Aceclofenac 100 Mg + Paracetamol 325 Mg + Trypsin-Chymotrypsin 50000 Armour Units Tablet

Calcium Citrate 1000 mg + Magnesium 100 mg + Vitamin D3 200 I.U. + Zinc 4 mg Tablet

ENZOPOL-P
Tramadol 37.5 mg + Paracetamol 325 mg Tablet
FEZIRAG-250
Azithromycin 250mg Tablet
FEZIRAG-500
Azithromycin 500mg Tablet
HBDOSE
Ferrous Ascorbate 100 mg + Folic Acid 1.5 mg + Zinc 22.5 mg
NIMOWOK-P
NIMESULIDE 100mg + PARACETAMOL 325mg Tablet
Amoxycillin 500mg + Clavulanic Acid 125mg Tablets
OBENCLAV LB

Amoxycillin 500mg + Clavulanic Acid 125mg + Lactic Acid Bacillus 60 million Spores Tablets

Ondansetron 4mg, Mouth Dissolving Tablet
OFLAWOK
Ofloxacin 200mg Tablet
OFLAWOK-OZ+

Ofloxacin 200 mg +Ornidazole 500 mg + Lactic Acid Bacillus 120 million spores Tablet.

Pantoprazole 40 mg + Odansetron 4 mg
PANROWEL-D
Pantoprazole 40 mg + Domperidone 10 mg
Paracetamol 650mg Tablet
RITECOLD

Levocetirizine Dihydrochloride 5 mg + Paracetamol 325 mg + Phenylephrine 5 mg

RITECOLD – P

Paracetamol 325 Mg + Diphenhydramine 25 Mg +Phenylephrine 5 Mg + Caffeine 30 Mg Tablet

THENFIX LB
Cefixime 200 mg + Lactobacillus Sporogenes 60 Million Spores Tablets
Cefixime 200 mg + Ofloxacin 200 mg Tablets
VASTFIX-D

Trypsin 48 Mg + Bromelain 90 Mg + Rutoside Trihydrate 100 Mg + Diclofenac Sodium 50mg Tablet

 
 
Capsule and Softgel Capsules
Brand Name
Composition
AUTOGAB PM
Pregabalin 75 mg + Methylcobalamin 1500 mcg
ESINOSET DSR

Esomeprazole (Enteric Coated) 40mg + Domperidone (Sustained Release) 30mg Capsules.

Pantoprazole 40 mg + Domperidone 30 mg(Sustained Release) Capsules

Rabeprazole 20 mg + Domperidone 30 mg (Sustained Release) Capsules

AUTOCIUM

Calcitrol 0.25 Mcg + Calcium Carbonate 500 Mg + Zinc 7.5 Mg Softgel Capsules

Calcium Carbonate 500mg + Zinc 7.5 Mg + Magnesium Sulphate 50 Mg + Calcitriol 0.25 Mcg + Vitamin K-27 45 Mcg + Methylcobalamin 1500 Mcg + L Methyl Folate 800 Mcg Soft Gel Capsule

Letdoex 9G Softgel Capsules

Ginseng, Green tea extract, Grape seed extract, Ginkgo biloba, Garlic powder, Guggul, Ginger root extract, Green coffee bean extract, Glycyrrhiza glabra extract, Lycopene, Omega 3 fatty acids, Essential amino acids, Methyl cobalamine, Vitamins, Minerals, L-Carnitine, L-Tartrate and trace elements Softgel Capsules

Lycopene 7500 mcg + Adenosylcobalamin 250 mcg + Vit. A 2500 I.U. + Vit. C 50 mg + Vit. E 10 I.U. + Sodium Selenate 25 mcg + Zinc 27.45 mg Softgel Capsules

OSTARAP-D3 Softgel Capsules

Vitamin D3 60000 IU Soft Gel Capsules
 
 
Syrups and Suspensions
Brand Name
Composition
Pepsin (1:3000) 10 mg + Fungal Diastase (1:1200) 50mg Syrup
BETERZYME
Tricholine Citrate 55 mg + Cyproheptadine Hydrochloride 1.5 mg Syrup

Calcium Carbonate 625 mg + Zinc Gluconate 14 mg + Vitamin D3 200 I.U. + Magnesium Hydroxide 180 mg Suspension

COFJAM

Ambroxol 15 mg + Terbutaline 1.25 mg + Guaiphenesin 50 mg + Menthol 1.5 mg Syrup

COFJAM DX

Phenylephrine 5 mg + Dextromethorphan HBr 10 mg + Chlorpheniramine Maleate 2 mg Syrup

COFJAM L

Levosalbutamol 1 mg + Ambroxol 30 mg + Guaiphenesin 50 mg Syrup

HBDOSE Syrup
Ferrous Ascorbate 30 mg + Folic Acid 500 mcg Syrup
LQ NOW Syrup
Lycopene + Multivitamin + Multimineral Syrup
MULTIRITE
Multivitamin + Minerals + Antioxidants Syrup
OBANCID
Sucralfate 1 gm + Oxetacaine 20 mg Suspension
PODEASY

Liquid Paraffin + Milk Of Magnesia and Sodium Picosulphate Suspension

SILYMEND-L

Silymarin 35 mg + L-Ornithine L-Aspartate 250 mg + Thiamine Hydrochloride 1.5 mg + Riboflavin 1.5 mg + Pyridoxine Hydrochloride 1.5 mg + Nicotinamide 20 mg + D-Panthenol 5 mg + Cyanocobalamin 1 mcg

Cefixime 50 mg + Ofloxacin 50 mg Syrup
TOXINGO-L
L-Lysine With Vitamin B- Complex Syrup
 
 
Pediatric Range
Brand Name
Composition
Aceclofenac 50 mg + Paracetamol 125 mg Syrup
BETERZYME

Tricholine Citrate 55 mg + Cyproheptadine Hydrochloride 1.5 mg Syrup

Cefpodoxime Proxetil 100mg Dry Syrup

Cefpodoxime Proxetil 50 mg + Potassium Clavulanate 31.25 mg Syrup

FURTAZINE-M
Levocetirizine 2.5 mg + Montelukast 4 mg Syrup
Amoxycillin 400mg + Clavulanic Acid 57mg Dry Syrup
Amoxycillin 200 mg + Clavulanic Acid 28.5 mg Dry Syrup
VITAMIN D3 DROP
PYREMUST
Paracetamol 250 mg Suspension 5 ml
PYREMUST-M
Paracetamol 125 mg + Mefenamic Acid 50 mg Suspension
RITECOLD DS

Paracetamol 250 mg, Phenylephrine 2.5 mg+chlorpheniramine 2mg Syrup

Cefixime 50 mg + Ofloxacin 50 mg Syrup
 
 
Injection Range
Brand Name
Composition
COBNOW Forte

Part-1 Vitamin C 150 mg/ 1.5 ml Part-2 Mecobalamin 25 mcg + Folic Acid 0.7 mg + Niacinamide 12 mg/ ml

COBNOW-PLUS

Methylcobalamin 1500 mcg + Pyridoxine HCl 100 mg + Niacinamide 100 mg + Benzyl Alcohol 1.5 % v/v Injection

PANROWEL-40
Pantoprazole 40mg Injection
Rablidoze IV
Rabeprazole 20 mg Injection
XONERATE
Ceftriaxone 1000 mg Injection
XONERATE S
Ceftriaxone 1000 mg + Sulbactam 500 mg Injection
XONERATE TZ
Ceftriaxone 1000 mg + Tezobactum 125 mg Injection
 
 
Ointment
Brand Name
Composition
APLIZOLE – T
Itraconazole 1% + Terbinafine 1%
Ofloxacin , ornidazole, itraconazole & clobetsol propionate cream.
ATERSCAB
Permethrin 5 % W/V Cream
CLIVAGO – N
CLINDAMYCIN 1%W/W+ NICOTINAMIDE4%W/W GEL CREAM
Clobetasol 0.05 % w/w + Neomycin 0.1 % w/w + Miconazole 2 % w/w
CLOMIKEN – S
CLOBETASOL 0.05% + SALICYLIC ACID 6% CREAM
FERBIGET
Terbinafine hydrochloride 1 % cream W
FEZIGRIP
Fusidic Acid 2% w/w Cream
FEZIGRIP-M
Fusidic Acid IP 2% w/w + Mometasone 0.1%
GO SPOT

HYDROQUINONE 2% w/w, TRETINOIN 0.025% w/w + MOMETASONE FUORATE W

KETLIMAC
Ketoconazole 2% Cream
LORTIMAC
Lulliconazole Cream 1% w/w
POVINOM-M
Povidone Iodine- 5% + Metronidazole-1% + Aloe Vera-1.5% (Ointment)
WUPICAP
MUPIROCIN 2% W/W
 
 
Facewash and Shampoo
Brand Name
Composition
Rutwash
salicylic acid 2% face wash
KETLIMAC

Ketoconazole- 2%+ Z.P.T.O ShampooKETOCONAZOLE 2%W/V + ZINC PYRITHIONE 1%W/W SHAMPOO

 
 
Lotion, Dusting Powder, and Soap
Brand Name
Composition
ATERSCAB-CT
PERMETHRIN 5%W/V+CETRIMIDE 0.01% LOTION
Cloticap
clotrimazole dusting powder
LORTIMAC
Lulliconazole Lotion 1% w/w
KETLIMAC-CT
KETOCONAZOLE 2% + CETRIMIDE 0.5% SOAP
 
 
Powder and sachet
Brand Name
Composition
Cholecalciferol 60000 I.U. Nano Shot
Stelon Biotech- The Leading Derma Company in India
We are one of the leading companies in the Indian pharmaceutical industry, providing world-class pharmaceutical products and outstanding business opportunities. The company is run by a team that consists of the top doctors, skincare specialists, quality controllers, logistic suppliers, and many other professionals in the nation. We make the best use of our resources and create the highest-quality derma variety to meet everyone's needs. The business has welcomed all pharma professionals, medical representatives, potential clients, retailers, and wholesalers who are vying for a spot on the Best Derma Products List in India. The company's best qualities include:
The business is GMP-WHO accredited and has an ISO certification.
We have the most qualified and trustworthy team of engineers, physicians, dermatologists, and healthcare professionals.
All of our products have been properly checked for quality.
We use a robust transportation system to deliver goods to every site.
Contact Information
Name– Stelon Biotech
Phone– +91 9216300566 
Email– sales.stelon@gmail.com
FAQs
Ques. Are there any side effects of Ketoconazole?
Ans. Ketoconazole's negative effects might range from minor to severe. Consult your doctor or pharmacist for more details on the potential side effects of ketoconazole or advice on how to handle a concerning side effect.
Ques. What are Derma Products?
Ans. Any and all Atrigel-formulated products for the treatment, diagnosis, and/or prevention of skin disorders or problems for human or veterinary usage are referred to as dermatology products.
Ques. What are the features of Stelon Biotech Derma products?
Ans. Stelon Biotech's Derma product has the ability to treat all skin-related conditions, including rosacea, acne, pimples, dermatitis, microbial infections, and androgenic alopecia, among others.
Ques. How much is the Derma industry going to grow?
Ans. The derma medicine market is expanding incredibly quickly and is predicted to reach US$ 37 billion by the end of 2023.
Ques. What derma products are more in demand?
Ans. The increase in demand for anti-acne, emollients, anti-fungal, and skin-lightening formulations as people resume their regular activities is the cause of the surge in dermatology medicine sales.
Ques. What is the most -significant application in the Indian Skincare derma cosmetics industry?
Ans. Acne is the largest category under the application segment of the Indian Skincare derma Industry.
Ques. What are the key drivers for the Indian Skincare derma cosmetics market?
Ans. The key market drivers for Indian skincare and cosmetics are rising consumer expenditure on appearance, a sharp increase in e-commerce, an increase in skin problems, an increase in derma cosmetics conferences, and youth growing up too quickly.