Derma PCD Franchise Company in Andhra Pradesh- The frequent skin and hair related issues are common, thus the products or medicines used in treating these conditions are in high demand due to their broad range of applicability. If you are looking for the Pharma Franchise opportunity in Andhra Pradesh in Derma Range, Stelon Biotech is the leading Pharmaceutical Company in Dermatology sector. The company provides Derma PCD Franchise Company In Andhra Pradesh and its other major locations like visakhapatnam and vijayawada. 
Andhra Pradesh is a perfect location to open a Derma PCD Franchise Company as the demand of derma product range is high in this region. An ISO-GMP and WHO certified company deals in a wide range of high quality products such as lotions, tubes, gels, tablets, facewash, soaps, sunscreen, dusting powders, injections, capsules, syrups and soft gel capsules. The company has its own highly qualified dermatologists, dealers and distributors and all of our products are marketed and delivered all across India.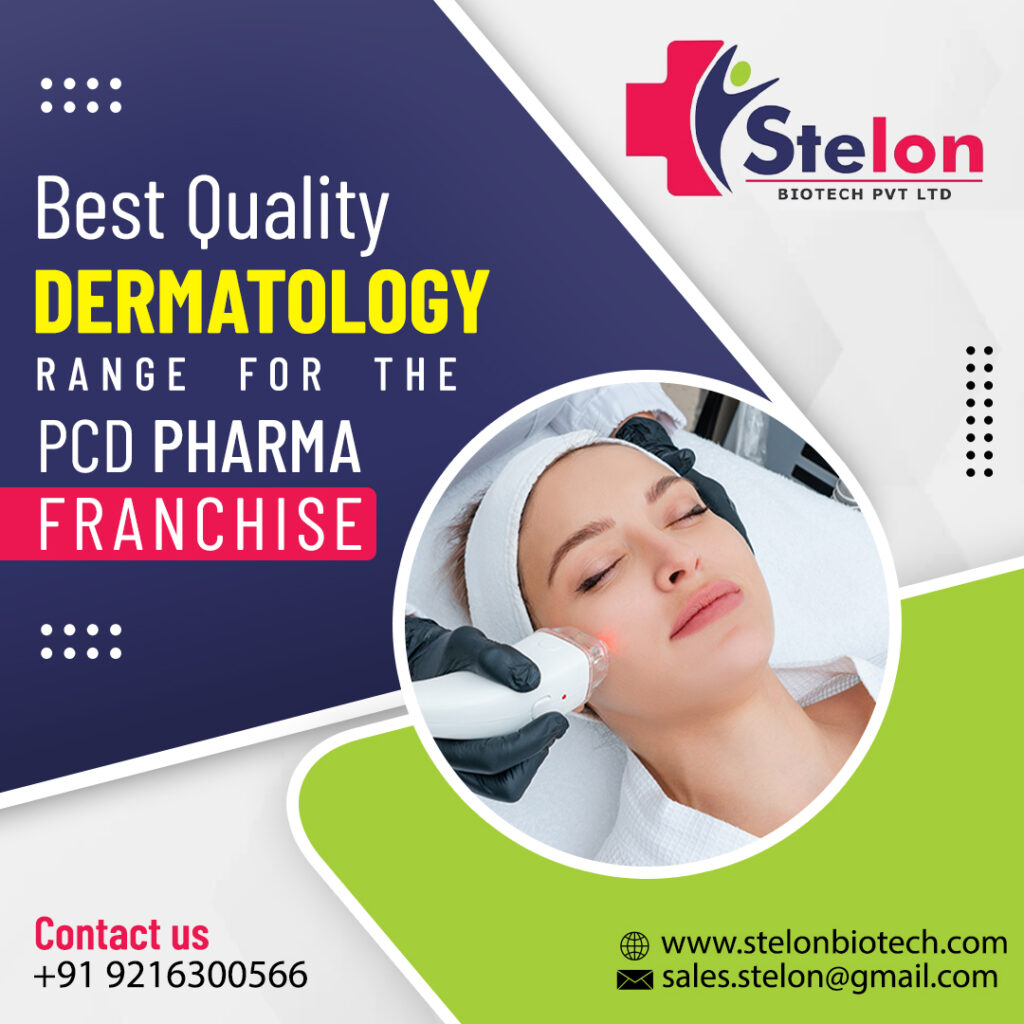 Get in touch with us for more guidance and information about the Derma PCD Franchise by calling at +91 9216300566 or you can write to us at sales.stelon@gmail.com. 
Choose Stelon Biotech as a Leading Derma Franchise Company
Open a venture with a Pharma Franchise leads to the highest economic growth and will be quite beneficial.  The most alluring aspect of the pharmaceutical franchise, which enjoys both strong market demand and rapid economic growth, is the derma franchise.  Stelon Biotech is the leading Pharma company which provides Derma PCD Franchise with the best and high quality derma medications at affordable prices.  The superiority of its products and successful client relationships give the business power. The following are the benefits of choosing our company as the Derma PCD Franchise Company in Andhra Pradesh:
Our company offers more than 2000 derma medicines and products for Franchise Business 
The company offers exclusive monopoly rights for franchise business 
No compromise in quality 
Our company provides promotional support 
We ensure on time delivery of the products 
Wide Range of Products for Franchise Business Offered by Stelon Biotech 
 The motto of our company is to launch new and unique formulations in the industry.  Depending on the market need and the demands of our existing clients, the company launches 10 to 15 new items each month, allowing our clients to grow without having to worry about new product launches from the company. Below the following are the product categories available for derma range PCD Franchise business:
Ointment
Soap
Lotion
Face wash
Dusting Powder
Shampoo
Derma Tablets
Capsules
Syrups/ suspensions
Powder
Satches 
Locations in Andhra Pradesh Where we Provide Derma PCD Franchise 
Andhra Pradesh is a large, highly populated territory comprising thirteen districts. In every region of the state, Stelon Biotech offers franchise firms the best business opportunities. Our products and medicines are of the highest quality and produce results that are both safe and effective. The list of important locations in Andhra Pradesh where we offer our derma franchise services is provided below. 
| | |
| --- | --- |
| Anantapur  | West godavari  |
| Chittoor  | Vizianagram  |
| East godavari  | Visakhapatnam  |
| Guntur  | Srikakulam  |
| Kadapa  | Nellore  |
| Krishna  | Prakasham  |
Key Benefits of Associating with Stelon Biotech in Andhra Pradesh 
Our business is renowned for its unmatched product and outcome quality. We strive to add additional PCD Franchise so that we can sell our products in more locations and customers may get them at reasonable prices. We have upheld a standard for ourselves as one of the top Derma Franchises in Andhra Pradesh. We utilize cutting-edge, ISO-certified, and WHO-GMP approved facilities to manufacture our goods. As a consequence, we are expanding and expanding our derma franchising business in Andhra Pradesh. Because of the following factors, our business is the greatest choice for PCD franchise: 
Derma PCD Franchise with a special monopoly structure
The quality management team and inspection team to guarantee the quality of our products
100% client satisfaction and favorable reviews of our products
The ideal packing material
Free marketing and advertising resources for business expansion
Large selection of derma products available.
Conclusion 
The business encourages its employees to make wiser investments in the pharmaceutical industry with a strong probability of sales profits. The derma franchise market offers good financial potential. 
Contact Details
Whatsapp: +91 9216300566
E-mail: sales.stelon@gmail.com