Stelon Biotech is one of the most valued Critical Care companies. The Company is constantly researching, fabricating, and producing a broad range of Critical Care medicines. We are the Best Critical Care PCD Franchise Company in India that also provides astonishing and profitable business opportunities across every state of the country. The products we deliver comply with the highest safety, quality, and regulatory standards. By working with this company, you will get yourself Full Monopoly Rights, Timely Delivery of Products, Assured Returns, Higher Profit Margins, Free Cost Promotional Tools, and much more.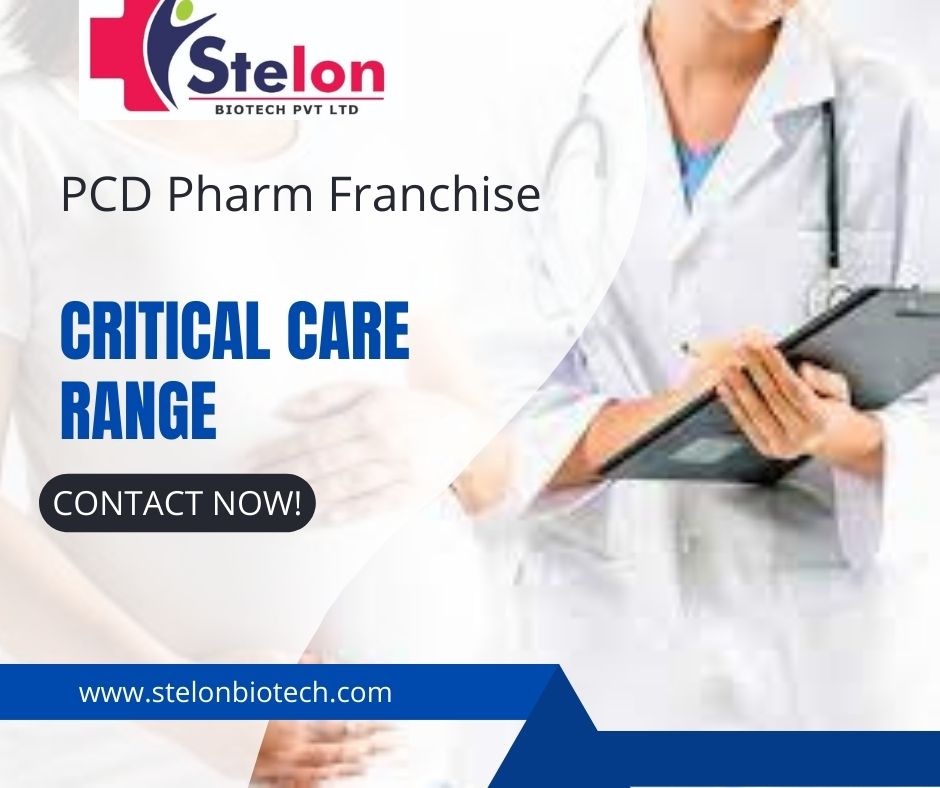 The demand for Critical Care Medicine is consistently growing in big hospitals, nursing homes, medical institutions, dispensaries, and in the Indian market as well. These are those medicines that treat, diagnose, and cure acute conditions. Being the Top PCD Company in India, Stelon Biotech has a PAN India presence and our distribution network is spread across every state of the nation. At this company, we ensure to provide mutually beneficial deals and also believe in methodology so that our clients remain fully satisfied with our services.
Best Critical Care Pharma Franchise | Stelon Biotech
Stelon Biotech is India's leading Critical Care company. We are one of the fastest-growing pharma companies that take immense care to ensure that its products meet all Statutory Requirements, Quality & Safety Standards, and Relevant Internal & Pharma Standards. We are an innovation-driver pharma company that is working to serve both clients and customers with a mind-blowing range of cost-effective Critical Care Medicines. Our products are designed after complete clinical research and manufactured under State of the Art facilities. As the Top PCD Company, Biotech Pharma believes in providing fair deals and products that improve the quality of life. Here are the strong highlights of the company:
The company has more than 20 years of experience in the export and domestic market.
We ensure the fast and secure delivery of medicines across all locations.
All the medicines delivered by our organization are quality assured and made with 100% scientifically researched & tested raw materials.
We have a team of dedicated and experienced pharma experts.
The company has world-class infrastructural facilities furnished with imported equipment, quality testing machinery, and much more.

Best Quality Assured Critical Care Products | Stelon Biotech
The Company focuses to meet the demands of both the clients and patients by providing them genuine quality checked and perfectly packed products. The company optimally utilizes its imported machinery and brings out the best Critical Care range for a franchise business. We have a specialized panel of QC inspectors and supervisors who keep an eye on each and every activity related to manufacturing, packaging, and shipment. Our products are duly tested and packed under layered packaging using high-quality raw materials. The range delivered by the Top Critical Care PCD Pharma Franchise Company in India comes under enticing packing with 100% quality assurance. Below is a glimpse of our packaging and quality arrangements:
The company assures to pack its medicines under air-tight, germ-free, and leakage-proof packaging.
We have separate R&D labs and QC units to test the quality of our medicines.
All the quality, safety, and industrial manufacturing norms adhere to our premises.
The company has a panel of quality-checking inspectors who supervise the quality, safety, and shelf life of the medicines.
 Scope of Dealing with Critical Care Range in India
Medical science is growing & expanding with each passing day, so there is a need for evolution to continue. This industry involves several divisions and among all the divisions, the demand for Critical Care Medicines is at the top, these days. Thus, having a PCD Company will be a profitable business decision. Critical Care medicines also known as Intensive Care medicines are used to treat and cure intense conditions like respiratory failure, multiple organ failure, and much more. This medicine segment is growing at an astonishing pace and as per the research of GBI, this sector was valued at around USD $2.3 billion.
It was predicted that this segment will touch USD $3.5 billion by the end of 2023. Thus, investing in this segment will be a profitable and smart business decision. Stelon offers the best Critical Care PCD Pharma Franchise with sublime business deals along with highly valued and Value for Money Critical Care products.
Why Choose us
We are one of the leading companies working in the Indian market that brings to you highly valued products and value-for-money for the Critical Care range for the business. 
You will be equipped with full Monopoly Rights for your area.
We assure you of timely shipment and secured delivery of products.
All your queries will be handled by a panel of experienced customer support staff.
The Top Critical Care Injectable PCD Pharma Franchise Company in India provides you with pocket-friendly deals.
You will get products manufactured under excide-free zones using advanced technology equipment.
Contact us
Address: SCF 377, Sector 13 Chandigarh – 160047
Phone No.: +91-9216300566
Email: sales.stelon@gmail.com