Top 10 Sunscreen Lotion in India – In daily skincare routine, sunscreen plays a vital role. Not just while going out under the sun, but it is also important when you stay indoors. Several companies have worked on finding the best SPF lotions which are highly safe for each skin type. To help you select the perfect one for yourself, we have mentioned below the Top 10 Sunscreen Lotions in India. All these formulations are very much safe and have been appreciated by numerous users nationwide.
List of Best Sunscreen Lotions in India 2022
We must all be aware of how crucial using sunscreen is. It is essential for avoiding skin cancer, which is brought on by exposure to too much UV radiation. The usage of sunscreen in the rain or shine has become a requirement due to global warming. It aids in maintaining the safety and health of our skin. Here's the list of Top 10 Sunscreen Lotion in India which are available at very affordable rates.
Biotique Bio Sandalwood 50+ SPF UVA/UVB Sunscreen for Face
Pure sandalwood, saffron, wheat germ, honey, and bark from the Arjun tree are combined in this nutrient-rich sunscreen lotion to keep skin soft, fair, and moisturised. Using sunscreen with a broad-spectrum SPF 50 UVA/UVB protection helps to protect the skin. You can reapply as necessary after swimming or other perspiring activities because this formula is water-resistant and keeps SPF after 80 minutes in the water.
Balanced pH level
Perfect consistency
Safe for all skin types
Minimalist Multi Vitamin SPF 50 PA ++++ Sunscreen for Body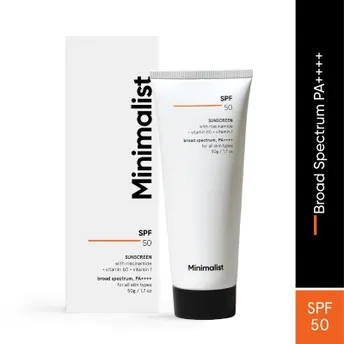 SPF 50 Minimalist Multivitamin PA ++++ Sunscreen is a mild moisturizer that also functions as sunscreen. This broad-spectrum SPF 50 with a PA+++ rating has an extremely light texture that spreads effortlessly and vanishes, leaving a smooth, moisturized, non-shiny appearance behind. a wealth of vitamins A, B, E, and F that support skin regeneration and minimize UV damage. In addition to offering the best skin protection, this sunscreen hydrates the skin.
The Man Company Sunscreen Lotion SPF 40+ for Men
Sunscreen lotion | 40+ SPF pa+++ defence theory – Sunscreen Lotion is more than a lotion; it is a guard! This lotion is among the best sunscreens since it is made with sea buckthorn oil, which has been known for its therapeutic benefits, as well as additional sun protection ingredients including allantoin and wheat germ oil to prevent tanning. This multi-protector from the house of defence theory is ideal for men with all skin types and contains antioxidants. It also aids in the fight against dullness and sun-damaged skin.
Has anti-oxidant properties
Helps in healing wounds
Cures radiating burns
Aveil SPF 50 Gel with Heat Shield for Legs
Aveil SPF 50 Gel will help you avoid sun damage from both UV and infrared radiation if you apply it frequently. Venusceane, a naturally occurring hot spring bacteria extract, and soy phospholipids are added, which reduces skin redness and has an antioxidant effect. A non-greasy gel formulation that is designed to address all these issues is ideal for dry to oily skin types. The ground-breaking active offers total defence against all types of radiation.
Protects against IR
Non-greasy formulation
Suits all skin types
The Moms Co. Mineral Based Sunscreen for Kids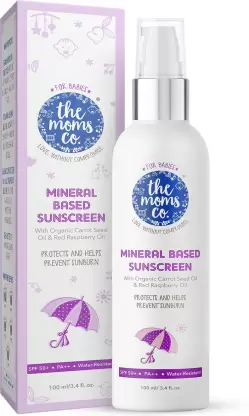 This Mineral-Based Sunscreen is manufactured with naturally occurring minerals like Titanium Dioxide & Zinc Oxide that build a barrier on the skin and provide good sun protection. It is ideal for babies older than 6 months old. Even teenagers can use it because it is water-resistant, SPF 50+, and appropriate for babies delicate skin.
Cream form
Pure extracts used
Affordable price
Organic Harvest Sunscreen SPF 60 For Oily & Acne-Prone Skin
The finest sunscreen for all skin types is Organic Harvest Sunscreen since it absorbs quickly and leaves a matte finish. This sunscreen for oily skin is suitable for both indoor and outdoor use. It offers UV light protection, and even blue light from electronic gadgets can be just as damaging as UV light in terms of causing ageing signs. Additionally, the recipe is entirely vegan and does not use animal experimentation.
SkinKraft Sunscreen Dry-Touch for Dry Skin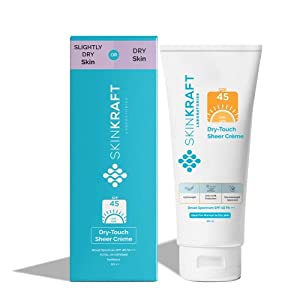 This lightweight sunscreen lotion, designed for dry to slightly dry skin, absorbs quickly into the skin and doesn't leave behind a greasy or sticky residue. It has a mild moisturizing effect and an SPF of 45, protecting your skin from UVA and UVB rays. Additionally, it helps with skin pigmentation and blemishes. People of various genders and skin tones can utilize it.
Murad City Skin Broad-Spectrum Mineral Sunscreen For Rosacea
This mineral sunscreen is meant to be applied to the chest, neck, and face. It is designed to address worries about ageing, but the brand also promotes using it for other purposes, including protection against blue light, pollution, and, of course, outdoor UVA and UVB radiation. The product leaves behind a pearlized finish, according to the manufacturer, and is safe for sensitive skin types. Additionally, it is fragrance-free, paraben-free, and, of course, chemical sunscreen-free.
Non-oily, non-greasy formula
Natural tint
Contains several antioxidants
Evalife Sunscreen Lotion for Tan Removal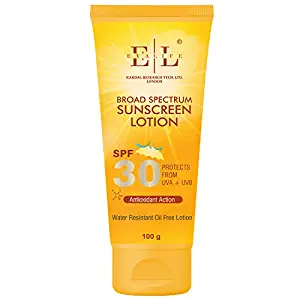 The SPF 30 formula of Evalife Broad Spectrum Sunscreen Lotion is special. This daily sunscreen protects against UVA and UVB rays in one lotion, giving you both UVA and UVB protection. In addition to reflecting or scattering UV rays, it also absorbs UV radiation in the UVB spectrum, which protects the skin from sunburn and other UV-related skin damage.
Thinksport Safe Sunscreen For Athletes
Thinksport Safe Sunscreen was formulated with productive lifestyles in mind. It is a mineral sunscreen made without any chemicals that offer SPF 50 protection, making it the most sold and appreciated sunscreen on the market. Thinksport sunscreen is equipped with the highest level of Government-certified water resistance (a stunning 80 minutes of protection). Additionally, it is certified to be cruelty-free and free of chemicals that harm coral reefs.
Conclusion
The products which we have mentioned above are highly safe and brought to the market after multiple quality testing. Check out all these products and choose the best ones for yourself. If you are interested to invest in the best quality derma and cosmetic range, you may contact our company. We have a vast range of top-quality skincare range.