Best Derma PCD Company in Chandigarh– Stelon Biotech is providing the best quality Skincare products for the Derma PCD Pharma Franchise. Our company is covering dermatology ranges that include antibacterial tablets, Anti-fungal creams, Acne-Free fash wash, Shampoo for hair loss, Anti-infective injections, Moisturiser lotion, Dusting powder, and more. We are the Best Derma PCD Company in Chandigarh as we are following international standards in the manufacturing process to make Dermatology Range so its quality never disappoints franchise associates.
Stelon Biotech puts the stock in development in a way, that brings new progressively updated, and effective skincare products to the market. We are an ISO-WHO-GMP-certified Best Derma PCD Company in Chandigarh that has some benchmarks to offer great quality durable and efficient drug formulations covering creams, lotions, gels, soaps, etc. Our Company supports its franchise associates in different manners giving them sole distributorship, free advertisement tools, marketing tactics, customer services, and more.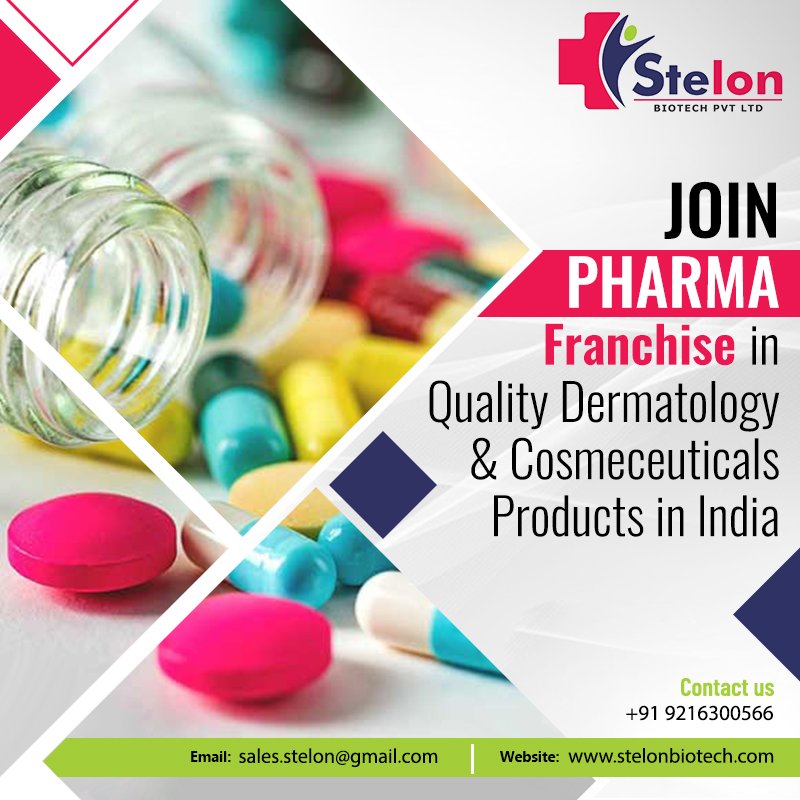 This is the best business opportunity for pharma professionals who want to start their own Dermatology PCD Pharma Franchise business in Chandigarh, Panchkula, and Mohali. Then contact us at +91 9216300566, or email us at sales.stelon@gmail.com.
Leading Derma Company in Chandigarh- Stelon Biotech
Dermatologists in the industry give Stelon Biotech great marks. We have been providing the market with high-quality products that are excellent for their skin for a long time. From the point of manufacture to the point of delivery, the items' quality is upheld in every way. Our genuine strength, in our opinion, lies in our advanced and integrated manufacturing facilities. Here are some of the things that set our product range and the Derma Company in Chandigarh apart from the competition.
Manufactruing units with GMP-ISO certification.
A clean, Spacious warehouse.
Availability of cutting-edge technology.
Breakage-resistant packaging
Best Dermatology Products for PCD Pharma Franchise
Additionally, Stelon Biotech manufactures all of the derma sector goods. We are the leading Derma PCD franchise in Chandigarh, and we are adaptable and dynamic enough to seamlessly integrate into the supply chain for both solid and liquid forms. Our group offers the top services entirely in accordance with schedule M. We manage the eco-friendly atmosphere to provide a better working environment. The following list includes the many derma ranges that the company offers:
Ointment
Lotion
Soap
Facewash
Shampoo
Dusting Power
Derma Tablets
General Tablets
Capsules
Syrup and Suspension
Powder, sachets, etc
100% Safe Quality Parameters are Practiced 
For customers, the most important factor is the product's quality. Our company's major goal is to provide pure, trustworthy, and safe skincare products that provide the appropriate level of care for your skin. To reach the quality standards, our outstanding team of experts and professionals gives it all they've got. Since we are adhering to international norms, we are unable to grow our global distribution network. Additionally, the GMP-WHO authorities have certified the entirety of the portfolio we have created. For the best and highest quality products, get in touch with us in Chandigarh.
The business guarantees the greatest price for customers as well as a healthy profit margin for its employees. At Stelon Biotech, we make sure to provide a top-notch, potent, and effective selection of medications for unmet requirements in the skincare industry. We are among the top derma companies in Chandigarh nowadays because of our excellence. Without a doubt, the greatest route for launching a Derma Franchise company is through Stelon Biotech.
Advantages of Choosing Stelon Biotech for the Derma PCD Franchise in Chandigarh
Stelon Biotech values its partners and provides them with the greatest Derma PCD Franchise opportunity possible. beliefs in reciprocal benefits. Associates receive excellent support as they develop with the business. We run a North India business, collaborate with several partners, and are currently seeking more. We assure a high-profit margin for all the PCD business transactions and provide the greatest facilities and benefits to all of our partners. Our Chandigarh franchise associates receive incredible advantages, including:
The unique monopoly rights
Free of cost promotional tools
Flexible investment schemes
High return on Investments
On-time delivery of the ordered products
Regular updates of the derma range
Regular incentives and bonuses are also provided
Contact Information
Phone– +91 9216300566
Email– sales.stelon@gmail.com