Derma PCD Franchise Company in Punjab- Thinking about starting a Derma venture in Punjab? If yes, then you are at the right place. Stelon Biotech is providing an Opportunity for Derma PCD Franchise Company in Punjab an ISO-WHO and GMP Certified company offers a wide variety of derma products such as lotions, tubes, face wash, Soap, Sunscreen ointments, Scalp application, dusting powders, tablets, injections and capsules, syrup, soft gel, pediatrics, eye drops and many more. Our company offers genuine business deals covering all the locations of Punjab such as Patiala, Jalandhar, Faridkot, Rupnagar, and Ferozepur, Hoshiarpur, Bhatinda, Fazilka, Gurdaspur, Kapurthala, Malerkotla, etc. 
Most of the people are investing in skin care products because of the rise in demand for derma products. Offering genuine business deals and high quality products at affordable rates Stelon Biotech is a well-known and top Derma PCD Franchise Company in Punjab. Our company follows all the high-quality standards with the main motive of providing high quality, affordable, pure and safe derma medications all across the nation by providing Franchise Opportunities at every location of India.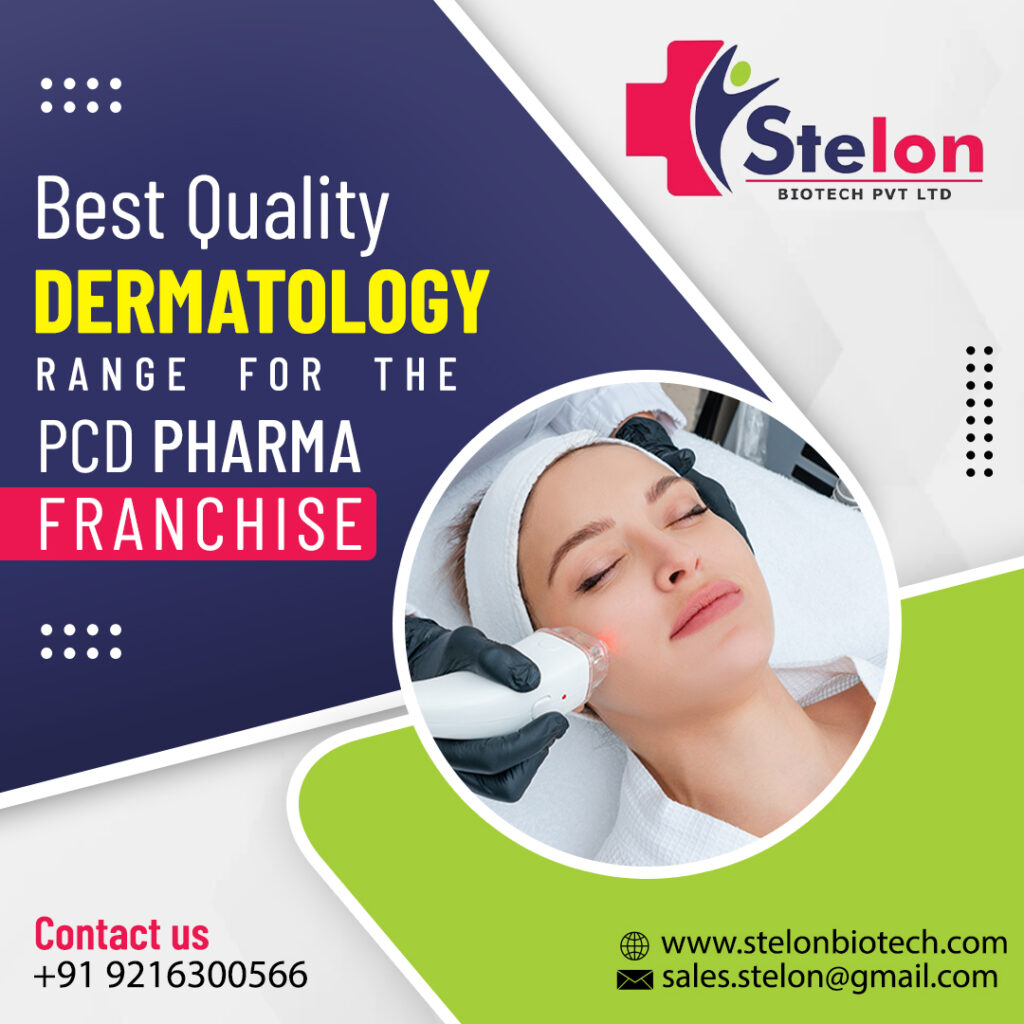 Get all the required information related to Derma Franchise opportunity by calling at +91 9216300566 or drop us an Email at sales.stelon@gmail.com. 
Rapidly-Growing Derma PCD Franchise Company in Punjab | Stelon Biotech 
Stelon Biotech has made its presence in the Dermatology market by providing quality and genuine services across the nation. We are an ISO  9001 : 2008 & GMP Compliance Company with State-of-art manufacturing units. We have a wide range of dermatology products which are cost effective, high quality, safe to use and have no side effects. The main aim of our company is customer satisfaction by providing the best quality dermatology product range. Currently the company deals with 5000+ customers all across the nation. We always are available to our clients to assist them when they are in need. Here are some of the few traits of our company:
High-quality dermatology products and medicines at affordable prices 
ISO-GMP certified manufacturing Units 
Marketing and promotional tools 
The manufacturing of derma products or medicines are implemented in excise-free zones 
Major Targeted Locations for Derma PCD Franchise Company in Punjab 
Stelon Biotec is now offering a Derma PCD Franchise opportunity in various locations of Punjab. So, if you are looking to start a derma venture in Punjab and in your own desired location, Stelon Biotech is here for you. Here are the available locations in punjab where you can start your own Derma Franchise:
| | |
| --- | --- |
| Amritsar | Kapurthala |
| Ludhiana | Barnala |
| Jalandhar | Nabha |
| Bathinda | Khanna |
| Patiala | Anandpur Sahib |
| Rajpura | Naggal |
| Hoshiarpur | Mansa |
| Mohali | Sangrur |
| Pathankot | Moga |
| Gurdaspur | Firozpur |
Top Quality Dermatology Products for PCD Franchise Company | Stelon Biotech 
Stelon Biotech believes in providing unique and safe medications in the market. The formulations delivered by our company are manufactured under the strict supervision of pharma experts and  during formulation each and every product is tested at every different stage. Our quality measurement teams makes sure that each and every product is safe and effective to use here are the derma product range offered by our company for Derma PCD Franchise Company in Punjab:
| | |
| --- | --- |
| Ointment | Soap |
| Lotion | Face wash |
| Dusting Powder | Shampoo |
| Derma Tablets | Capsules |
| Syrups/ suspensions | Powder |
Scope of Opening a Derma PCD Franchise Company in Punjab 
Dermatology market segment is one of the profitable places to start a venture as the demand for derma products is rapidly growing day by day. And opening a skincare venture is quite beneficial, profitable and has a wide scope in future. The compound annual growth of the dermatology industry is anticipated to develop to $36.6 Billion in coming years. Due to the good advancement in science and technology of the healthcare industry in Punjab is the sole reason for on-going rapid growth. 
Invest in Stelon Biotech for Derma PCD Franchise Company in Punjab to Obtain High-End Profits 
Stelo Biotech brings the great opportunity for all the business professionals in Punjab including wholesalers, stockists and retailers, etc. who want to start their own venture. Our company provides multiple benefits to our clients and associates which helps them in earning a great profit. We are proud to say that our company is the choice of millions of people across the country.  We have a network of more than 5000 customers. Time is the essence of our motto to deliver products timely & competitively to our patients. 
Key Benefits of investing in Derma PCD Franchise Company:
Our associates get unique monopolistic rights 
We provide free marketing and promotional tools to our clients 
Our company shares huge profit margins with our customers 
Offers affordable deals to our customers 
On time and hassle free delivery of the products 
Get connected with the top Derma PCD Franchise Company and avail the maximum benefits offered by Stelon Biotech. 
Contact Information
Whatsapp: +91 9216300566
E-mail: sales.stelon@gmail.com