Derma PCD Pharma Franchise in Chennai– Stelon Biotech works with the motive to become the best dermatology company that designs, markets, and supplies the best quality Skincare and haircare range at afforadble prices. Our company brings a wide quality range of DCGI-Certified derma products that include Anti-Bacterial ointments, Anti-acne facewash, Anti-dandruff shampoo, Anti-Fungal tablets, and Multivitamin capsules, Moisturizer lotions, dusting powders, and so on. We are an ISO-certified pharmaceutical company that provides an ethical Derma PCD Pharma Franchise in Chennai.
Stelon Biotech has its art of state manufacturing units that are certified by the WHO and works under the supervision of the Good Manufacturing Processes. Along with this, we have a specialized team of research and development, quality control experts, technicians, dermatologists, marketing experts, and logistic experts who collaborate their efforts and make us the Leading Dermatology and Cosmeceutical Pharma company. Many pharma associates are working with us by joining the Derma PCD Pharma Franchise in Chennai and getting the benefits like monopoly, promotional support, regular incentives, and many more.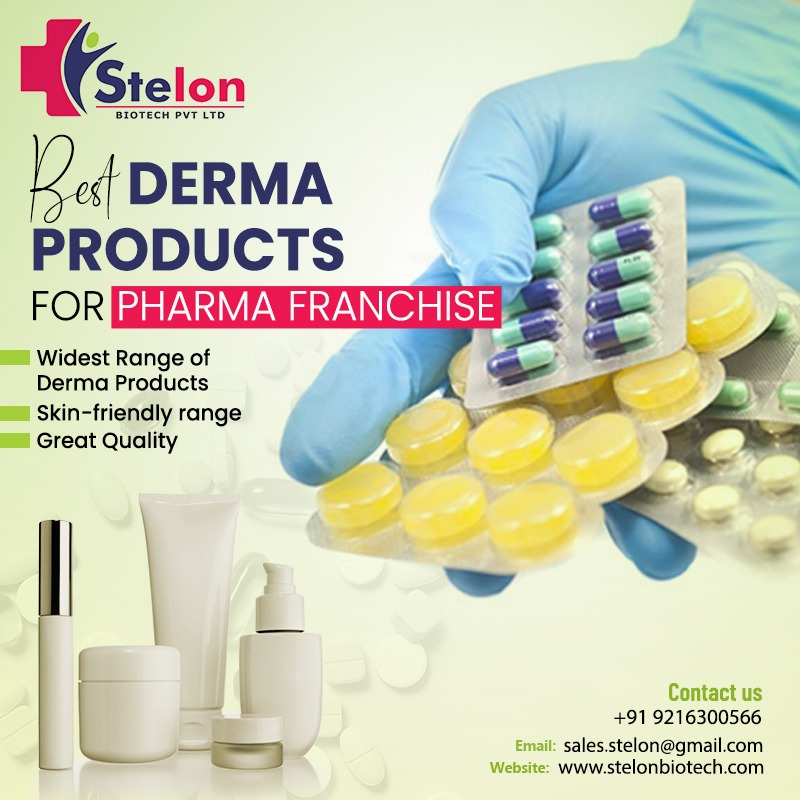 With Stelon Biotech, you will get the lucrative derma franchise business with the flexible capital amount and you can start this business in your desired locations without facing any market competition. So contact the company by calling at +91 9216300566, or email us at sales.stelon@gmail.com.
Collaborate with Stelon Biotech- Best Derma Company in Chennai
Stelon Biotech is redefining cosmeceutical and dermatological formulation trends. We provide a wide range of inventive derma medication formulations, setting the standard for viability and security. We are effective at bringing the newest formulations to market to address issues thanks to the assistance of a qualified and experienced R&D team. The company is regarded as the best for the Derma PCD Franchise business in Chennai for the following reasons, in addition to providing several incentives to our Franchise associates:
Top Standards– Along with an R&D facility, Stelon Biotech has modern manufacturing facilities. In addition, the quality and innovation experts create outstanding standards for all derma products.
Safety of Products– Our formulations are created with high skin venerability in mind, taking into account the tight industrial norms.
Cutting Edge Performance– The products have undergone clinical studies for the treatment of skin disorders. All of the products effectively address typical skincare issues.
Trust– For Derma Franchise in Chennai, Stelon Biotech is a well-known brand in the pharmaceutical industry. Thus many pharma professionals and franchise associates working with us currently.
Impressive Range of Derma Products 
For Derma PCD Franchise in Chennai, Stelon Biotech is a well-known brand in the pharmaceutical industry. We work to deliver the market excellent skincare solutions through our developed facilities as an ISO-GMP-certified business. Our products are the first choice of customers because of their affordable prices, ease of use, and effectiveness in treating skin conditions. Stelon Biotech is committed to providing the market with secure skincare products. To fulfill the increasing market demands for various skin concerns, our products are creative and strong.
All of the derma goods we offer for the franchise business are prepared in self-owned manufacturing facilities and come with the assurance of DCGI and WHO units. As a result, we guarantee that we will meet the high market demand for these products on schedule. Our product line includes both dermatology and cosmetics, and it is offered in the following forms:
Lotion
Ointment
Soap
Facewash
Shampoo
Dusting Powder
Derma Tablets
General Tablets
Capsules
Syrup and Suspension
Powder, sachets, etc.
Choose Stelon Biotech and Get the Benefits of Derma PCD Franchise in Chennai
Stelon Biotech is committed to providing products of the highest quality to satisfy consumer needs and market demands. Dermatologists and cosmetologists in Chennai undoubtedly give these skincare and haircare lines their highest endorsement. We are searching for highly committed pharma experts who wish to join our company for the Derma Products PCD Franchise in Chennai as we strive to make this company the greatest in the globe. We reassure them that our business will offer them every support imaginable to help them generate healthy profits. The following are some advantages of cooperating with Stelon Biotech:
Promotional Support– We are aware that brand promotion is crucial in the dermatology industry. We not only work to promote our brand but also give our employees the necessary promotional resources so that they won't have problems with sales. The top-notch advertising materials are attractive and offered without charge to Stelon Biotech's employees. Go Green Bag, Calendar, Prescription Pad, Bag, Scientific Visual Aid, and Bag.
Monopoly Rights– We grant our business partners monopoly rights. They will be able to operate more effectively and with fewer competition.
Timely Delivery– Because we appreciate our clients' time, we make sure that derma items are delivered on schedule throughout India. All products are shipped across the nation via a reliable transportation network and are packaged with high-quality materials.
Contact Information
Phone– +91 9216300566
Email– sales.stelon@gmail.com