Documents required for Pharma Franchise Business- If you planning to start your business career as a pharma franchisee in India that is the best time because this business is growing faster because of the Covid 19. After COVID-19 people are too much aware of their health and they want to stay healthy. However, many entrepreneurs are unaware of this opportunity and lack knowledge about the pharma franchise business and how to get started. Specifically, they may not be aware of the necessary Documents required for Pharma Franchise Business.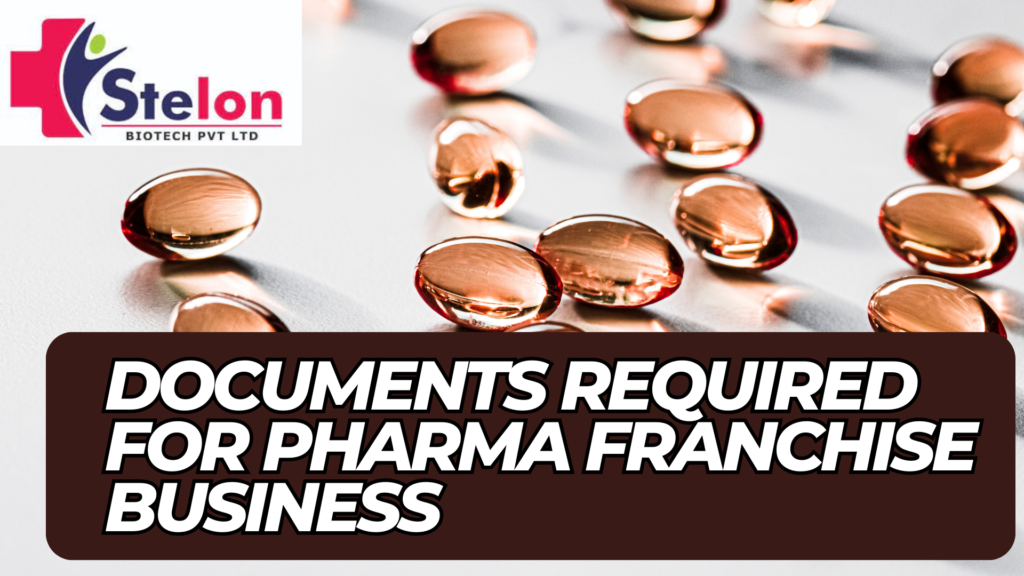 Today we will discuss with you all about pharma franchises. We will start from the basics and then we will start our main topic which kind of Documents are required for a Pharma Franchise Business.
Pharma Franchise- This is a business model in the pharma sector. Where entrepreneurs can start the pharma journey by taking the franchise rights from the top leading pharma companies. In this business model, big pharma companies will provide rights to sell their products in selected areas. This area is selected by the company. The company will find the best vacant locations where company franchise partners run their business without taking the stress of competition. In a pharma franchise, you can run your business freely with monopoly rights. And earn a 20 to 30 % profit margin.
Important Documents Required for Pharma Franchise Business
If you want to start a pharma franchise business in India. Then you need to arrange some documents that can help you to start your business easily. This document is very important to show your business in legal and following Indian laws and regulations. In bellow, you can read in detail about the all documents. 
#1 Drug License:
For starting any pharma business drug license is a very important and main document. This licence makes your presence legal in the market. This drug is issued by the State Drugs Control Organization or Central Drugs Standard Control Organization (CDSCO). Without a drug license, you are not able to start your pharma franchise business. 
#2 GST Registration:
To pay your business taxes you need to register for GST. Its full form is Goods and service tax. You can apply this document online at GST portal. If you don't have knowledge about this you can get help from YouTube you also can hire one CA that can help you to apply GST.
#3 Trademark Registration:
If you want to secure your brand name, logo and other special symbols from your other competitive companies then you need to register a trademark. By trademark registration, your competitors cannot use your brand name logo and special symbols. This is an important action to keep your brand safe and stop others from copying your ideas.
#4 FSSAI Registration:
If you want to sell eatable supplements or nutraceuticals in your franchise business. It is important to Register yourself under FSSAI (Food Safety and Standards Authority of India)
# 5 PAN Card
In India PAN Card is a very common and important document to start any business. Its full form is the permanent Account number. This document is used for financial transactions and filing taxes.
 # 6 Rent Agreement or Property Documents:
If you are starting your business in a rental place then you need to get a rent Agreement or property Documents from your property owner. This document helps you to showcase your business and have a valid place.
# 7 Current Bank Account
To receive your business payments and other transactions purpose you need to open your current bank account. You can open your bank in any Indian branch.
# 8 Address Proof:
For a Pharma franchise, you need to provide address proof to the company. You can Provide any identity document like Aaddhar card, driving licence, Voter ID and passport.
# 9 NOC from the Manufacturer:
If you are taking your product from the manufacturer. It is important to take an NOC (No Objection Certificate) From the manufacturer. In this cretifacte, your manufacturer will show you non-objection to sell their pharma franchise products.
In conclusion:
starting a pharma franchise business in India is a promising opportunity, especially considering the growing demand for healthcare post-COVID-19. However, it is important to be aware of the necessary documents required for this Business. These include a drug license, GST registration for tax compliance, trademark registration to protect your brand, FSSAI registration for selling eatable supplements, PAN card for financial transactions, a rent agreement or property documents if operating from a rented space, a current bank account for business transactions, and address proof. Additionally, obtaining a No Objection Certificate (NOC) from the manufacturer is important if you are sourcing products from them. By ensuring you have these documents in order, you can establish your pharma franchise business on a legal and compliant foundation. If you want to know more information about pharma content Stelon Biotech at +91 9216300566!