How much investment is required for a pharma franchise?- Investing in a pharmaceutical franchise business in India can be a profitable opportunity for people who want to join the healthcare industry. It gives a chance to sell and deliver good medicine, meeting the increasing need for healthcare options. But, before you start your own business, it's important to understand How much investment is required for a pharma franchise?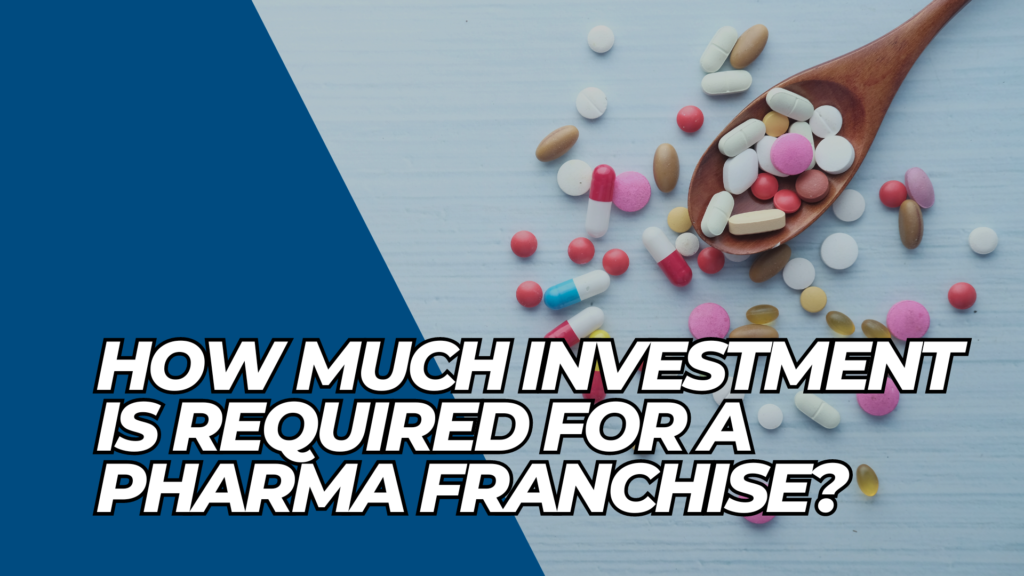 Important factors that can help you to understand How much investment is required for a pharma franchise?
The initial investment for a pharma franchise business in India typically ranges from ₹50,000 to ₹2,00,000. This amount covers various expenses, including:
Franchise Fee: The franchise fee is the upfront payment made to the pharma company to secure the rights to sell their products under their brand name in a specific geographic area.
Drug License: Arranging a drug license from the state or central drug standard control organizations is mandatory to Run a pharma franchise business. The cost of getting this license depends on state to state.
Marketing Materials: Investing in quality marketing materials, such as brochures, pamphlets, and promotional items, is essential to effectively promote pharmaceutical products.
Inventory: Maintaining an adequate inventory of the franchise products is important to meet customer demand and avoid stockouts.
Operational Expenses: Ongoing operational expenses include office space, transportation, communication charges, and employee salaries.
Important things you need to keep in mind while investing in a pharma franchise 
Location: Setting up a franchise in a highly populated area may involve higher rental costs for office space compared to rural or semi-urban areas.
Product Range: The wider the range of pharmaceutical products offered, the higher the inventory investment might be.
Marketing Strategies: The extent of marketing campaigns and the use of advertising channels can significantly impact the overall marketing expenses.
Sales Performance: The revenue generated from product sales is the primary source of income for a pharma franchise business. Effective marketing and sales strategies can significantly boost sales performance.
Profit Margin: The profit margin on each pharmaceutical product sold determines the overall profitability of the business.
Expense Management: Prudent expense management practices can help maximize profits and improve the return on investment.
Some Basic Information about pharma Franchise for new Enterpnuers
If you are new to the pharmaceutical sector and do not have a deep knowledge about the pharma franchises and how it work in the pharma sector? So it is important to understand the basics so that we will start with the basics and then explore other aspects such as What is a Pharma Franchise? and what is the scope of pharma Franchise in india?
Pharma franchise is a business model and a great business opportunity in the health sector. In this business, model big pharma companies will provide franchises to business seekers who want to start a career in the pharma sector. In pharma, franchise people can sell established and known branded products and The scope of pharma franchises is very bright and growing in India. If you are thinking of investing in a pharma franchise this is the right time to invest. However, it is important to understand some factors such as Location, Product range, Marketing Strategies and sales performance. 
Some Benefits of a Pharma Franchise
Investment: In a pharma Franchise, you do not need to invest a high amount of money. You can start your journey with Minimal investment.
Low Risk: This business model is very less risky because pharma products are in high demand and every buddy requires good products.
High Profits: A Pharma franchise is a great business opportunity for earning high profits. By starting franchises you can earn 10 to 30% profit margin.
Promotional help: Top pharma companies will provide promotional tools and promotional help to the franchisee. That can help to reach more customers.
Easy To start: with some basic documents such as a drug license, GST number, and business registration you can easily start your pharma career as a franchisee.
Independent Business: Pharma franchise business offers you to run your business independently. You can make decisions as per your business needs.
Pharma Experts: If you are choosing the best pharma company. Then you will receive support from experts who can help you to run your franchisee business smoothly.
Conclusion:
In India, the cost of starting a franchise business is  ₹50,000 to ₹2,00,000. Before starting this Business, it is important to consider factors such as location, demand for products, and the quantity of medicines required. If you are interested in a Pharma Franchise company, We highly recommend Stelon Biotech. We are a renowned company in the health sector, known for providing top-quality products at affordable prices. For more information, you can call us at +919216300566. we have a dedicated support team that will help you to provide more details and solve any queries you may have.