Derma Manufacturer in Baddi– Stelon Biotech is the first name that comes to mind while we are talking about the trustworthy derma manufacturing company. Being an ISO-certified pharma company we always offer the best quality dermatology and cosmeceutical products to the pharma companies who are looking for the leading Derma Manufacturer in Baddi. Derma range in which we are dealing includes Anti-Bacterial ointments, Anti-acne facewash, Anti-dandruff shampoo, Anti-Fungal tablets, Multivitamin capsules, Moisturizer lotions, dusting powders, and so on, liquids formulations, etc. To guarantee the best product and customer satisfaction, we have been strictly adhering to worldwide GMP regulations.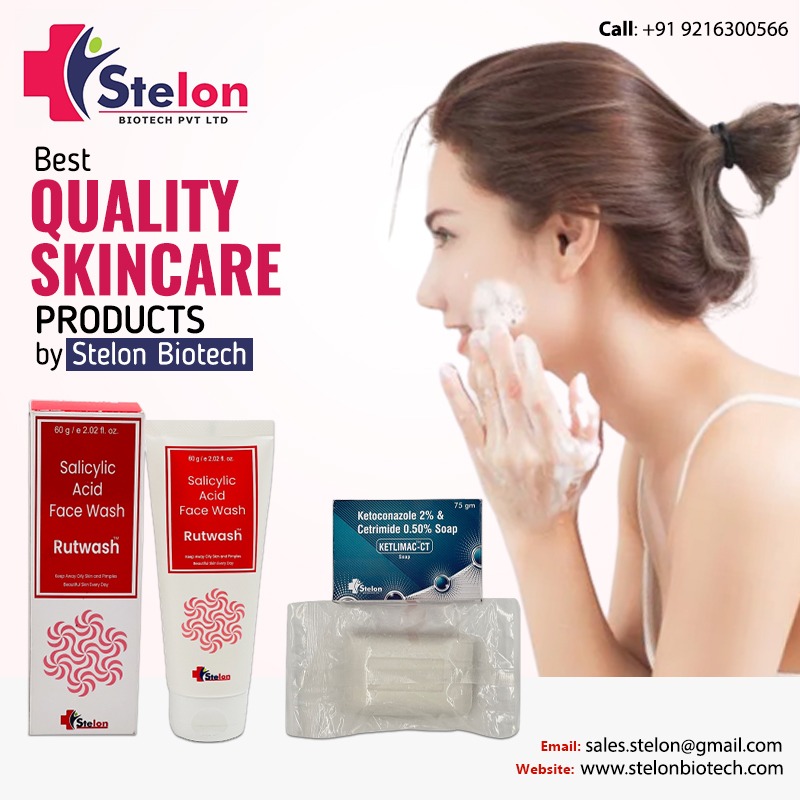 Stelon Biotech is supported by a complete set of legal permissions and an outstanding infrastructure. We own WHO production labs, specialized R&D facilities, demanding quality testing equipment, etc. The company has set up every logistical and packaging facility with the express purpose of delivering high-quality derma medicines to clients, MSMEs, customers, and even some large structures. Due to our company's huge investments in modernizing technology, replacing outdated machinery and equipment, hiring highly skilled personnel, and ensuring the highest possible level of quality for our dermatology product line, we are the Top Derma Manufacturer in Baddi.
For more inquiries about our derma products manufacturer in Baddi contact our marketing experts who will assist you to get your answers quickly. So call us at +91 9216300566. You can even email us at  sales.stelon@gmail.com. 
Leading Derma Manufacturing Company in Baddi- Stelon Biotech
When we talk about purchasing a higher quality and guaranteed skincare line, the name Stelon Biotech will always shine at the top of the list. Because of its location at the center of the pharmaceutical industry, the company can satisfy all customer demands. We think that utilizing high-quality, clinically tested chemicals can only lead to results that are secure. Therefore, top derma formulations from the range that are made from naturally derived ingredients are integrated into our manufacturing facilities for this purpose. Additionally, the WHO has issued certain general recommendations that must not interfere with the environmental standards that our company constantly adheres to. The following list of amazing company characteristics:
You can choose from a large selection of DCGI-approved dermatology items from our company.
We often add new derma products to the lineup for the advantage of the larger growth of our pharma associates.
The standard of skincare products is our main priority. We therefore rigorously adhere to GMP and WHO standards.
Modern machinery is used to create items and medicines.
The best packaging procedures are applied to preserve pharmaceuticals in tubes, Vials, Alu-Alu, etc.
We have made sure that the medications are safe and their packaging is resistant to tampering, degradation, and leakage.
Best Quality Derma Product List 
Stelon Biotech, the top producer of third-party derma manufacturer in Baddi, has created remarkable skincare items. Every dermatology and cosmeceutical product we offer has undergone extensive testing and research, and it is made with biologically superior extracts. Our formulas are fortified with vitamin C and multivitamin extracts, which nourish the user's skin right away. The company provides a dermatology range that is legally approved by employing the proper combination of substances and foreign machinery. Here are a few of the top-notch formulations that Stelon Biotech offers:
Itraconazole 1% + Terbinafine 1% Cream
Permethrin 5 % W/V Cream 30gm
Permethrin 5% W/V and Cetrimide 0.01% Lotion
Salicylic Acid 2% Face Wash
Ketoconazole- 2%+ Z.P.T.O Shampoo/ Ketoconazole 2%W/V +Zinc Pyrithione 1%W/W Shampoo
Fexofenadine 120mg + Montelukast 10mg Tablets
Levocetirizine 5mg + Montelukast 10mg Tablet
Cefpodoxime 200mg + Potassium Clavulanate 125mg Tablet
Ondansetron 4mg,  Mouth Dissolving   Tablet
Rabeprazole 20 mg + Domperidone 30 mg (Sustained Release) Capsules
Pantoprazole 40 mg + Domperidone 30 mg(Sustained Release) Capsules
Benefits of Collaborating with the Derma Third Party Manufacturer in Baddi
For better quality and more dependable medicine formulations, working with a reputable dermatology company is crucial. Stelon Biotech has made investments in top-notch infrastructure, including buildings outfitted with the newest tools and machinery. We engage with leading companies in this sector to ensure that our products are in high demand worldwide. The manufacturing process is intricate and expensive. With the help of our company's services, you can develop high-quality medicine formulations while cutting costs in an unending range of ways. The following benefits are only a few more:
Best quality derma product list
Wide network of Logistic partners
Cost-effective techniques
Highly Skilled workforce
Attractive and quality packaging
Regular updates of the derma range
Contact Information
Phone– +91 9216300566
Email– sales.stelon@gmail.com