Nowadays there is a lot of pollution and diseases that are spread in our environment and many of them are related to ears, nose, and throat. Some of the diseases are so severe that they completely damaged these parts of the body. Plenty of times these illnesses would not have reached such an extreme level if proper medications were used by the patient at an early stage. So it is mandatory to use good quality medicines for the treatment of these diseases. Starting a PCD Pharma Franchise Firm for ENT will help you to make lots of profits in the long run as these diseases are increasing day by day. It will also be your kind contribution toward mankind as there are countless people suffering from these diseases and they are totally helpless in how to get the best medicines for their treatment.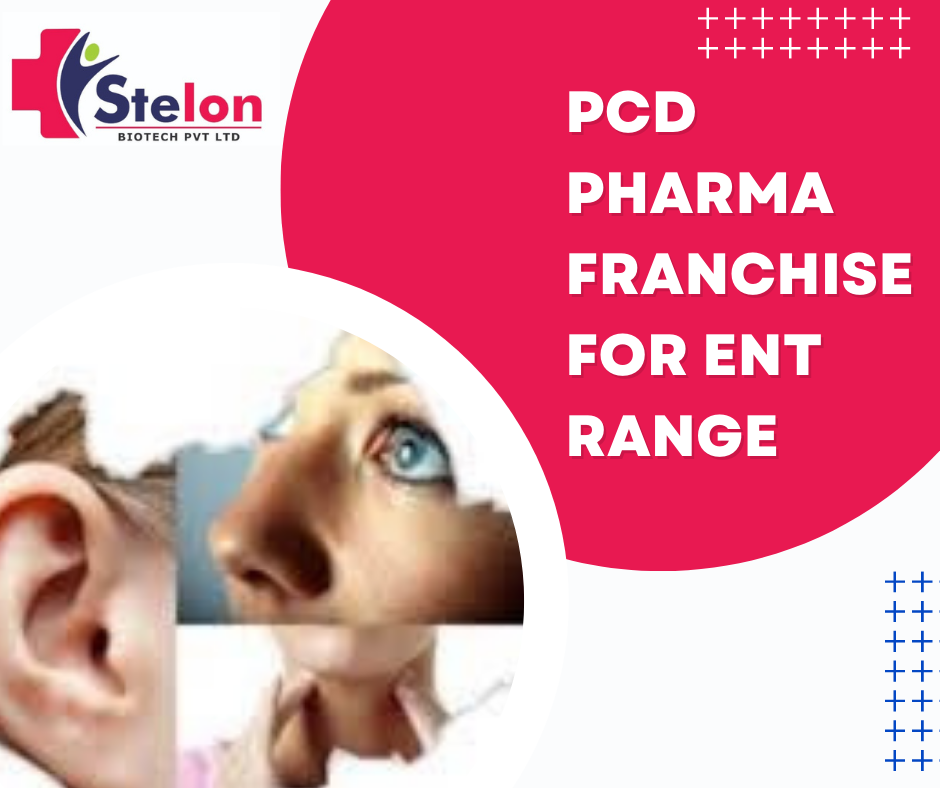 Stelon Biotech is the best pharmaceutical company to provide you with the top-notch PCD Pharma Franchise For ENT. Our company is offering the best quality products to our franchisees and all the medications are manufactured with high-tech machinery. We always make sure the finest quality of medicines and drugs reaches our clients and they don't get disappointed by our services. Because of our services, Stelon Biotech has achieved a lot of market reputation and the trust of our customers.
Best Company To Give ENT Franchise Opportunities|Stelon Biotech
Stelon Biotech is the top company to choose when you are planning to start a pharma franchise of ENT, as you will provide the medicines for the treatment of most sensitive illnesses related to ears, nose, and throat. Our company will provide you with the franchise at the most minimal rate and a promise of earning huge amounts of profit in a long run. All the medications provided to you will be of a reasonable rate and will be top-quality. Our market reputation has made us one of the best companies to take the franchise from. We have a vast infrastructure to do manufacturing of the products, storage, packaging, etc. Modern packaging methods are also been adopted by our firm like alu alu and blister packaging and we have a team of highly trained professionals to make sure that all the medicines and drugs are manufactured by meeting all the parameters.
Our company has years of experience and has gained the faith of thousands of professionals. Our company not only produces the best quality products but we have cutting-edge machinery to make sure that the finest quality medications are manufactured and supplied to our clients. Our firm always uses fair practices to achieve our targets and we have never involved ourselves in any unfair practices. We have certain ethics that we believe in and always abide by them. All of the products that are been manufactured are as per GMP-WHO guidelines. All our team members are certified too. Stelon Biotech is the only company that can offer you the most low-cost and low-risk franchise and the promise of earning a huge amount of profit in a long term.
High-Quality Standards Maintained By Our Firm|Stelon Biotech
Whenever someone is purchasing any commodity, they always think that the product should be of the finest quality as we buy it for a purpose and put our money into it. When the quality of a product is not meeting expectations then it is of no use. And here we are dealing with medications that are for people who are already suffering from a disease, so providing the best quality products should be our utmost priority. Production standards of all medicines and drugs are designed to ensure that products are safe, efficient, and of top-notch quality. Our company never compromise on meeting the quality standards of any of the product. Here are some of the key points of our firm.
All the medications are manufactured as per GMP-WHO guidelines.
Certified and trained professionals are been hired to make sure that all the parameters of production are met.
Timely delivery of the products to our linked pharma professionals.
Modern packaging methods like alu alu and blister packaging.
Traceability is also been done by our company to make sure the safety and quality of healthcare products.
Wide Range Of Products Covered By Our Firm|Stelon Biotech
Stelon Biotech is a company that focuses on producing and covering as much a range of medicines and drugs as they can cover . Because it is not known which disease or illness can come into our environment and we should be ready to have a solution for that problem. That's why our firm has produced and covered a vast range of medicines and drugs. Below is the list of different range of products covered by our company.
| | |
| --- | --- |
| BETERZYME | PODEASY |
| OBANCID | COFJAM L |
| SILYMEND-L | TOXINGO-L |
| COFJAM DX | HBDOSE SYRUP |
| AUTOZYME SYRUP | COFJAM |
| MULTIRITE | AUTOCIUM |
Why Stelon Biotech is the Best PCD Pharma Franchise Firm For ENT Range?
Stelon Biotech is the best company to provide the pharma firm for the ENT range as our company uses raw materials that are 100% pure as we have a set of professional vendors. And in addition to that our company provides exclusive rights. We believe in providing the best products to all of our linked pharma professionals across the nation.
Independent monopoly rights.
Top-notch medications for ENT.
Wide range of medicines and drugs.
Best packaging methods adopted.
Fair trade-in business.
Contact us
Address: SCF 377, Sector 13 Chandigarh – 160047
Phone No.: +91-9216300566
Email: sales.stelon@gmail.com